When starting out with a blog, you either don't know what to write about, or you have so many ideas you don't know where to start.
Instead of reinventing the wheel you'll want to start with content that you know gets shared and attracts links. Content that has been proven already.
This post contains proven content in the SEO industry.
I took 40 of the most well known SEO companies/blogs/authorities and started analyzing their top linked pages in Ahrefs.
This has grown into a top 500 most linked pages in the SEO industry.
It contains everything you want to know if…
You want to know what content attracts links
You want a list of sites you can email to get links to your content
You want to know what content gets shared a lot
You want to find outdated (and proven) content that you can update
That's what you'll find in this post. If you're a blogger or agency in the SEO industry you might find some inspiration for your next content piece.
You'll learn exactly what content attracts links and why.
First things first. Let's start off with the results before we dive deeper into the best performing infographics, blogs, resources, SEO tools and news.
Most linked content in the SEO industry
(click to enlarge)


Feel free to share this infographic on your site or blog:

Why Moz and SearchengineLand get so many links
As you can see Moz en Searchengineland together account for over 50% of the links of the top 500 most linked content in the SEO industry.
SearchengineLand seems to get a lot of links to their news articles. They are the industry leader on providing search related news. What I noticed was, news about algorithm updates gets the most links. They even named one of the algorithms themselves (Pigeon)!
The reason Moz attracts so many links is because they are referenced by many sites as the most reliable resource in regards to basic SEO information. Most of the links Moz attracts are via their learning guides and extended resources on ranking factors, algorithm change history and keyword research.
Moz can be viewed as the overall SEO authority on learning SEO.
Searchengineland is the undisputable king of SEO related news.
Link building idea
As beginners resources are very well covered and updated regularly by Moz, there might be some topics they haven't covered. Think: more in depth sub niches within SEO or verticals. Write an extensive resource around those and publish this on your site. Or, pitch Moz to write it for them.
Some ideas:

ASO beginners guide (vertical)
Google's Penalty history (sub niche, including taking down blog networks, manual penalties, etc)
Webmaster guidelines change history (sub niche)
Let's take a look at the top 25 most linked posts in the SEO industry. To get a better feel for what content attracts links and how we can use this to come up with new content.
Top 25 most linked content
As you can see the most linked pages in the SEO industry are resources, SEO tools, some blogposts and Google algorithm updates.
We will dive deeper into each individual type of content to find out what sites are killing it.
And, more importantly, how to inspire new content ideas from that.
Download the entire top 500 list
Leave your email below to download the entire top 500 list. Subscribers will be updated about new link building case studies and will receive bonus downloads with each post. Emails are never sold.
Best performing infographics
In the infographic you see quite some diversity on the subject of infographics that perform well.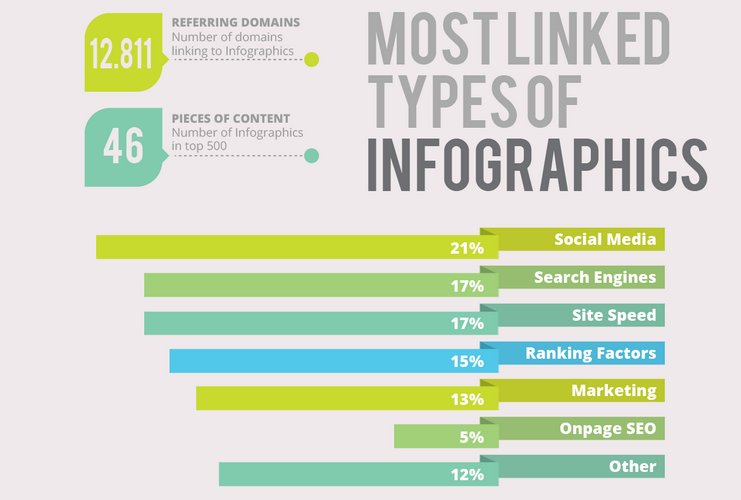 That's not really surprising if you take a closer look at the top 10 infographics:
*There were multiple instances of the same infographic in the top 15 due to redirects. These are added together in this top 10 list. Not in the top 500 list.
As you can see Kissmetrics is the undisputable king of infographics.
There is also a great diversity in the subjects of those infographics. Especially if you compare the ones Kissmetrics published. They are particularly good in research related infographics. Do some research and instead of showing boring numbers and graphs, make it beautiful and easy to comprehend via an infographic.
Each infographic is unique and targets a specific, but large, niche to get links from (webmasters, social media, SEO, conversion, UX). With each infographic you target a different pool of sites. So you'll get a wide variety of unique referring domains. Also, most of these sites are not competing with your core business. So they're happy to share your infographic.
All in all, if you're looking for inspiration on infographics, keep an eye on KissMetrics.
Link building idea

Pick a vertical related to your niche
Research a popular topic within that vertical
Turn it into an infographic
Contact websites that serve the audience the infographic is useful for

Some ideas:

How local listings affect ranking for local businesses: a case study
Study of chat functionality: how it affects conversion
How 25 tested psychology tricks improved PPC ads
Of course, infographics are easy to share and generate quite some links. Some of these infographics generate links for a longer period of time. They're 'value assets' so to say, they accumulate value over time.
Another asset are resources.
Build links with resources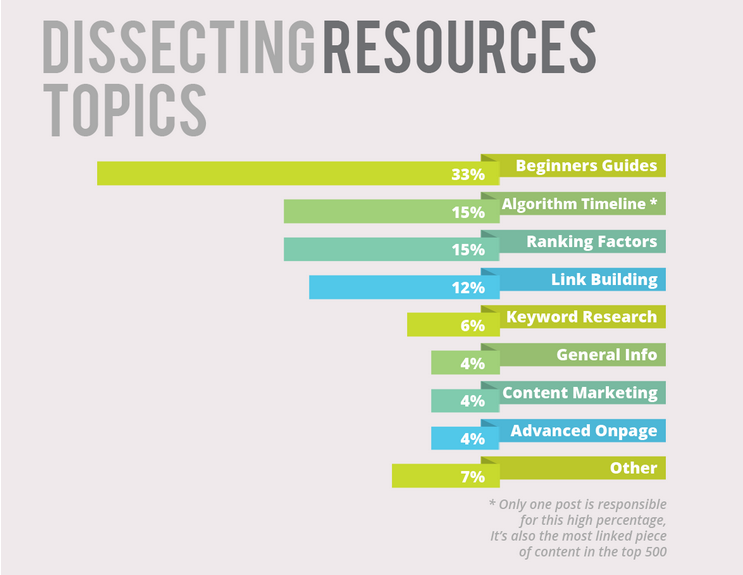 'Resources' is a quite vague description. In this top 500 analysis I view a resource as more than just a blogpost. They're extensive and conclusive. When you're finished reading there is nothing more to add. Thats the content I defined as a resource.
Resources are valuable assets. Once an industry knows about your resource people link to it and share it as one. Journalists will refer to you. Forums, blogs, comments and most importantly, other resources list your content as a resource.
Once built and kept up to date these resources will bring in new links over and over again!
Now, what resources are the most linked in the industry, and what can we learn from them?
Top 10 resources in the SEO industry
As you can see, Moz is the king of resources.
You'll find more resources in the download of this post. It contains the entire top 500. As you can see in this top 10 alone, some are already outdated. Some are incomplete and some are plain old.
You can use this list in multiple ways in your content marketing strategy.
Link building tip
Create a similar resource. One that's closely related to an already existing, and proven, resource.

For example "Content marketing tactics – the complete list", similar to the link building tactics list by Point Blank SEO.

Or, "Google penalty history", a resource similar to Moz's "Google algorithm change history".
The point here is not to rehash the same content, but to apply the factors that attracted the links to the new content you're going to create. "Content marketing tactics" may have some overlap with Point Blank SEOs list, but it will mainly be about link building through PR and content.
It entices the same audience for the same reasons while the content is unique.
Link building tip
Chunk it down.

Get more specific in regards to an already existing, and proven, resource.

For example "How to build links in the finance industry".
Or "The beginners guide to link building".

Make sure it's more specific but still compels a lot of people.
Link building with blogging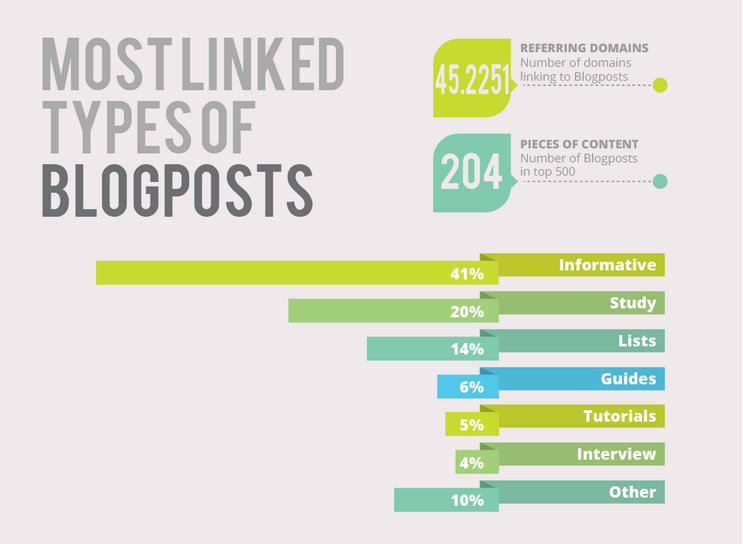 Most content marketing is done via normal blogposts, as these require less work than infographics or resources. The problem is though, not all blogs attract links. And it's hard to stand out from the enormous amount of blogs published every day.
In analyzing the top 500 I found a little over 200 blog posts. Some of these are new information from experts. Other popular formats are guides, lists and studies.
Let's take a look at the top 20 most linked blog posts in the SEO industry and see if we can find some new link building ideas.
Top 20 most linked blogposts in the SEO industry
Build links using research studies
Publishing the results of a study is great if you have access to research data. But that's not always available. What I personally did in the past for a nutrition affiliate site was a study of all natural ways to boost testosterone levels in humans. I combined the data from 15 other scientific studies into a blogpost.
I then emailed all the sites linking to the 15 studies on this extended study.
My site, which was mainly selling protein shakes, shot up to #3 for the dutch phrase for "protein shakes".
Link building with lists
HA! Here's something we already knew and have been using for some time now: lists! People love lists. They are fast to read (just read the headlines) and you can cram in a lot of information in one post.
Make sure the post you're going to publish contains at least a few nuggets of wisdom. That will attract the links.
The ultimate link asset: SEO Tools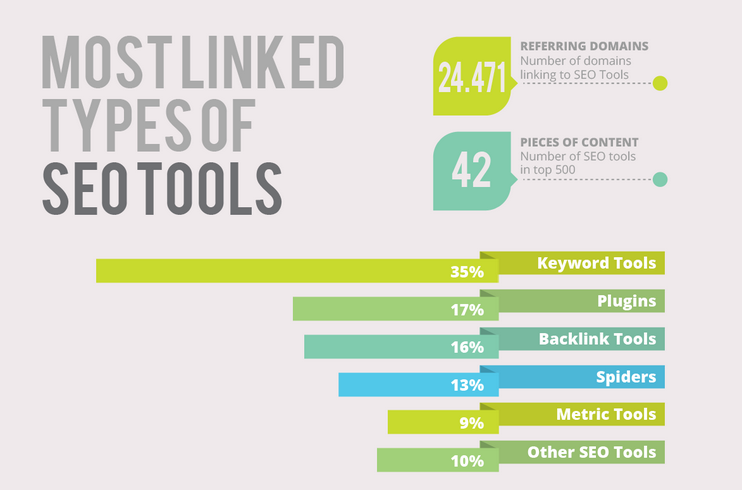 If you build a great SEO tool and share it with the world, you can build some great links for your site. The problem is finding a great idea. Basically you need to solve a problem that a lot of people have and solve it with an easy to use tool.
In the top 500 are about 40 SEO tools of different kinds. Some are keyword tools, others are spiders or plugins. So there is not really a specific type of tool to go with.
To find inspiration in building a tool yourself you can do the following:
Build a better one than the ones available
Create a new tool if an old one is outdated
If new metrics become popular, be the first to build a tool
Find a common problem, solve it with a tool
Developing a tool will take quite some research and development cost. This wouldn't be my first strategy to build links, but once you find an idea you've struck gold.
I'd personally go for blogs, infographics and resources first.
Off to the link building grounds!
Hopefully by now you have found some content ideas to work on. The entire top 500 list is a great inspiration for new content in the SEO industry and even in other industries. SEO is one of the industries that is most advanced in content marketing and link building.
Download the entire top 500 list
You can find even more gems of link building inspiration in the rest of the top 500 list. Leave your email below to receive the download. Subscribers will be updated about new link building case studies and will receive bonus downloads with each post. Emails are never sold.
You can use this list as inspiration for new content, but also to find new sites to email about your new content.
Even if you're not in the SEO industry you can use it to find similar content ideas for the industry you're in.
Happy link building!